Star Of The Week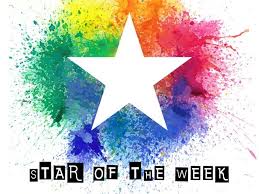 Each week, the teachers will choose a child from their class to be Star of the Week. Children are chosen for excellent work, fantastic effort, good behaviour choices or going over and above our expectations.
Children will be awarded a certificate during assembly. In KS2 children will spend some time with a member of the Senior Leadership team on Friday to have a chat about their achievement, while enjoying a hot chocolate and biscuit.
Let's see who has amazed us this week!
End of Term Certificates
Class

Certificate of Excellence

For consistently being a shining light in our school and exceeding all expectations.

Certificate of Achievement

For consistently giving 100% to all aspects of life in St Edmund's.

R1
R2

1.1
1.2
2.1

2.2
3.1
Diane
Daisy
3.2
David
Maggie
4.1
Michelle
Aaron
4.2
Adrian R
Jeremy
5.1
Leyla
Emanuel G
5.2
Tracey
Anna
6.1
Breanna
Sean
6.2
Daniela
Ishmael
'Walk a Mile' Winners 26th March
Well done to Year 5 for being the first year group to complete the most laps in 3 minutes.