Star Of The Week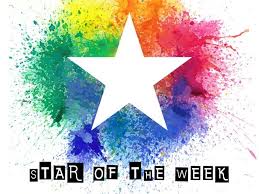 Each week, the teachers will choose a child from their class to be Star of the Week. Children are chosen for excellent work, fantastic effort, good behaviour choices or going over and above our expectations.
Children will be awarded a certificate during assembly. In KS2 children will spend some time with a member of the Senior Leadership team on Friday to have a chat about their achievement, while enjoying a hot chocolate and biscuit.
Let's see who has amazed us this week!
End of Summer Term Awards
| | | |
| --- | --- | --- |
| Class | Certificate of Excellence | Certificate of Achievement |
| R1 | Levia: for being an excellent role model to her peers and has workingextremely hard this year. She has made excellent progress. | Frankie: for working hard in all areas of his learning this year and for ALWAYS having a positive attitude. |
| R2 | Nathaniel: for excelling this year in his reading, spelling, speaking and all areas of Mathematics. Well done Nathaniel! | Jamie: for making excellent progress this year in his speaking, listening — he is now reading books. Well done Jamie! |
| 1.1 | Aaliyah: for being an excellent role-model all year! | Hugo: for making excellent progress in his speech and language. He always tries really hard in all subjects. |
| 1.2 | Nenna: for trying her best in everything she has done. She always listens well and is a brilliant role model. | Malakai: for making great progress with his reading this year. He has developed an interest in books and I hope he continues to enjoy reading next year! |
| 2.1 | Saint: for working hard all year. She has an excellent work ethic, and she always tries her best. She is also an excellent role model within the class. Keep it up Saint! | Julia: for making excellent progress this year, she has worked really hard in all subjects — especially English. I hope she continues to try her absolute best next year. |
| 2.2 | Neveah: for some very thoughtful contributions to class discussions, especially in RE. | Abraham: for consistently being an excellent role-model all year! |
| 3.1 | Daniella: for being always kind and happy. She tries her best at all times and is a fantastic member of our class. | Ethan: for trying really hard this term with presentation, handwriting and sharing his ideas. He has impressed us all! |
| 3.2 | Carlos: for excellent behaviour and putting 100 % effort into everything he does. You do the right thing even when no-one is watching you. You are brilliant, Carlos. Well done! | Gabriella: for trying really hard to ask questions when you are not sure. Keep on asking questions, Gabriella. You are a star! |
| 4.1 | Ilona: for the incredible effort she has put in consistently. Her confidence has grown this year in Year 4 and her 'can do' attitude is amazing! | Daniel: for his work and behaviour which are held to a high standard inside and outside the classroom. He has come out of his shell this year which has been amazing to see! |
| 4.2 | Kaosi: for being a wonderful member of class 4.2. A lovely person to be around and a role-model in every sense! | Tahlia: for making impressive progress in her attitude and confidence. She is now willing to 'have a go' at things, and it has made us all feel so proud! |
| 5.1 | Stephanie: for always acting as a role model. You have such a good work ethic and a desire to learn and improve! You constantly give 100% to everything you do. | Francisco: For always striving to do his best and listening so carefully to any feedback given. You have made an impressive amount of progress in all subjects this year, well done! |
| 5.2 | Nathaniel: for being a wonderful role model for all the children in the class. You always try your best in all your subjects and yet you are determined to do better. Well done Nathaniel. | Sarah: for being so attentive in all lessons and leading the way with our class discussions. Your written work has been exemplary, you listen carefully to feedback, and you are always willing to challenge yourself to do better. Well done Sarah! |
| 6.1 | Dorrit: for being an outstanding role model who always tries her very best in everything she does. A pleasure to teach, and you always treat people with kindness and respect. | Rafael: for pushing himself all year to do the very best he can. You work incredibly hard and are always looking to challenge yourself. |
| 6.2 | Brianna: for being an outstanding role model. You put 100% effort into everything you do, and you are a pleasure to be around. We will miss you! | Vincent: for always striving to do better. You have made phenomenal progress in maths and English. Well done! |
Well done to Classes 6.1 and 6.2 for completing the most laps in Key Stage 2. A great effort!