Year 5 - My Money Week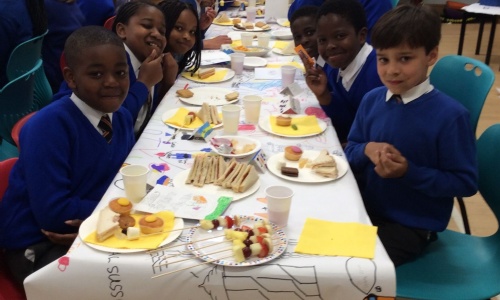 This week across the school has been My Money Week. This is a national activity week for primary schools that provides a fantastic opportunity for young people to gain the skills, knowledge and confidence in money matters to thrive in society. It's the highest-profile and most recognised personal finance education initiative in England.
Across the school, each year group have been working on fantastic projects, which include buying from class shops to visiting new lemonade stands.
Year 5 have been working all week to plan, budget and organise a tea party for the year group and a lucky few VIPs. On Friday morning, the children spent time making sandwiches, fruit kebabs, sharing treats and decorating the hall in preparation for the party. From the pictures below, you can see a great time was had by all lucky enough to be invited.
Children from across the school have worked hard all week, and we are sure there will be some budding entrepreneurs in the future!
Well done, everyone!