Marcus Rashford Book Club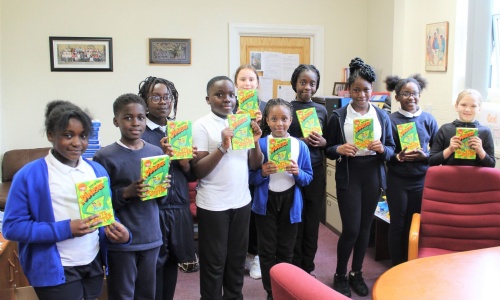 We were delighted to have received a donation of books from Marcus Rashford and his collaboration with Magic Breakfast. This book is the first book in the Marcus Rashford Book Club. It is called 'A Dinosaur Ate My Sister' written by Pooja Puri with illustrations by Allen Fatimaharan.
Marcus Rashford says:
"Welcome to my Book Club. I'm so excited that you are able to join us. I want you to take this book home tonight and write your name in the front because this book belongs to you and only you. It's obviously fine to share with friends and siblings but only if YOU want to.
Tell your friends that this book is a gift from me to you because that's exactly what it is.Escape in to the story and find the joy in your reading. If you're struggling don't be afraid to ask for help. We all need help along the way, me included. There is no rush to get to the end, enjoy every word at your own pace.
I'm so excited to hear what you think." – Marcus Rashford MBE