St Edmund's Day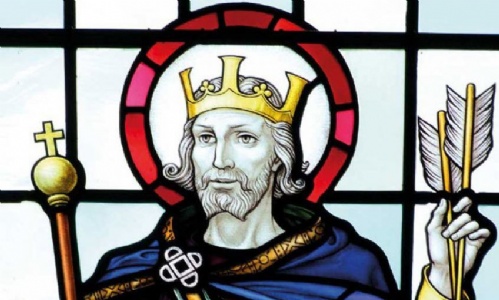 Yesterday was a very special day for our whole school community as we celebrated and remembered St Edmund. St Edmund's day, which is celebrated around the world on the 20th November each year, is a day to remember his sacrifice, faith and strength to not denounce Christ to the invading Danes. St Edmund was loved by his people for his loving, caring nature and each year we remember his story and try to learn from his example.
Children in school have been retelling St Edmund's story through role play, posters, poems and writing, as well as all joining a very special virtual assembly led by Miss Pittendreigh. There was even some time to enjoy some special treats and a class party.
During the assembly Aysha-Rei, who is in Year 6, shared with us all exactly what it means to be a St Edmund's pupil. It was a lovely piece of writing and demonstrates the special community we have.
'I have been in this school since Reception. Over the years, I have not only made great friends, but made great memories. To be a St Edmund's child to other people looking in, may seem like being a child at any other school, but it is not. St. Edmund's is not only a school or community, it is a family, it's a home. To be a St. Edmund's child means to be someone who is comfortable being themselves and who is celebrated for it! I am proud to be a St Edmund's child, and I wouldn't change a thing!'
Please make sure to ask your child about our special day, and we hope you all had a great St Edmund's Day too!