The Queen's Platinum Jubilee Celebrations!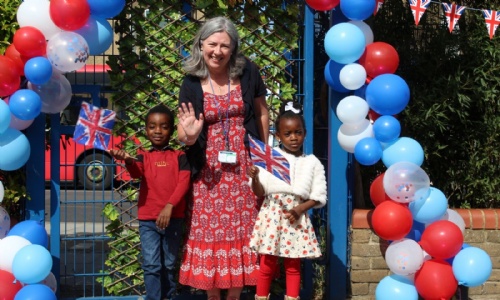 On the last day of term, our whole school community came together to celebrate the Queen's Platinum Jubilee. Staff and pupils came to school wearing red, white or blue and took part in a full day of fun activities.
In the morning, children enjoyed some traditional jam sandwiches, jelly and squash in the playground whilst watching and competing in 'The Great British Jubilee Sing Off'. Each year group performed a song from the past 70 years and were judged by Mrs Johnstone, Mrs Higgins and Mrs Spinazolla. The morning finished with the whole school singing the national anthem.
After a special school lunch, Phase groups worked together to provide a range of creative activities including making crowns / jewels or learning dances from the past 70 years.
It certainly was an enjoyable day for all and one which will be remembered for years to come!
Have a look in 'Our School Gallery' for more photographs of our day.