Star Of The Week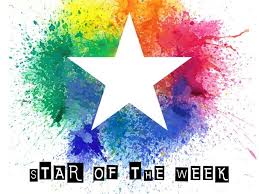 Each week, the teachers will choose a child from their class to be Star of the Week. Children are chosen for excellent work, fantastic effort, good behaviour choices or going over and above our expectations.
Children will be awarded a certificate during assembly. In KS2 children will spend some time with a member of the Senior Leadership team on Friday to have a chat about their achievement, while enjoying a hot chocolate and biscuit.
Let's see who has amazed us this week!
Star of the Week w/c 17th January 2022
Class

Name

Reason

R1
Ava-Grace
For improved listening skills
Isaac

For progress in phonics.

R2
Aiden
For smiling and waving at his friends at school
Elna

For being so kind and gentle and improved name writing

1.1

Aseelah

For working hard in Maths

Ashley

For working hard in all lessons

1.2
Jaydon
For settling in at St. Edmund's so well
Livia
For always sitting beautifully on the carpet
2.1
Rayyan
For working excellently as a team during our PE lesson. Keep it up Rayyan!
Uba

For knowing all about Sandra Silberzweig and synesthesia in Art.

Well done!

2.2

Victoria

For improving with her reading
Kaden
For improving with following school rules
3.1
Leticija
For her incredible improvement in her handwriting! All that practice is paying off :)
3.2
Nevaeh

For working hard and making fantastic progress in maths.

4.1
Roman
For staying focused on his learning and making an excellent start to the year. Fantastic!
4.2
Kyra
For a confident presentation in her maths homework video.
5.1
Edward

For your enthusiastic attitude in the Starfish project and for demonstrating greater confidence when talking in front of the class. Well done!

5.2
6.1
Amara
For her consistently outstanding writing. You are very talented, Amara. I always look forward to reading your writing.
6.2
Victoria
For having a really focused start to this term and putting a huge effort into all of her classwork and homework.
Well done to Class 4.1 for completing the most laps in Key Stage 2. A great effort!