Safeguarding & Well-Being
Safeguarding and Child Protection
St Edmund's Catholic Primary school is committed to safeguarding and promoting the welfare of children and expects all staff and volunteers to share this commitment.
We have a number of policies and procedures in place that contribute to our safeguarding commitment, including our Child Protection Policy which can be viewed in the policies section of our website.
Sometimes we may need to share information and work in partnership with other agencies, when there are concerns about a child's welfare. We will ensure that our concerns about our pupils are discussed with parents / carers first, unless we have reason to believe tht such a move would be contrary to the child's welfare.
Our designated safeguarding leads are Mrs Johnstone (Acting Headteacher) Mr Kenny (Acting Deputy Headteacher) Mrs Wright (KS1 Lead/Reception SENCO) and Miss Graves (SENCO).
Further Information Regarding Safeguarding:
Photographs and videos:
Whilst lots of parents and carers really enjoy seeing photos and videos of their children's school life we are very mindful of our duty of care towards all our pupils. We take the issue of safeguarding very seriously and this includes the use of photographic and video images.
Any photographs or videos taken by parents, carers and relatives at school productions, sports days or other events are for the enjoyment of individual families. They must not be used in any way that could potentially place a child at risk. This would include publishing images in any form of print or on the Internet including social networking sites. This is emphasised before concerts and assemblies etc and where practical a record of parents and relatives taking photographs or videos is made.
We understand that in exceptional circumstances a parent or carer may not wish their child to be photographed or videoed in this way. If this is the case then please contact the headteacher to discuss how this can be best achieved.
Please find below links to helpful websites ensuring the safety of all in our school community.
What to do if you're worried a child is being abused
Keeping children safe in education
Well-Being At St Edmund's
Mental health and well-being of pupils, parents and staff is very important to us - now more than ever.
All children are entitled to develop to their fullest potential academically, socially, emotionally and into healthy well beings, enabling each child to grow in confidence and be able to fully participate in everything that goes on in the wider community with confidence. It is widely recognised that a child's emotional health and wellbeing influences their cognitive development and learning, as well as their physical and social health and their mental wellbeing in adulthood.
The department for Education recognises that, in order to help their pupils succeed: schools have a role to play in supporting them to be resilient and mentally healthy.
At St Edmund's we offer support for children's mental health and emotional well-being in the following ways:
Daily Mile
Use of Ten Ten to meet the expectations of the RSE curriculum
Weekly PSHE sessions
Weekly focus in assemblies
Well-being Wednesdays
Play therapy
Thought / relaxation stations
Lego therapy
Focus on healthy living/eating
Early Morning Work Mindfulness focus
Flexible curriculum to meet the needs of the children
Wide range of extra-curricular activities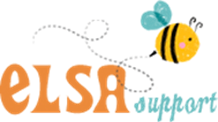 We have introduced a new intervention in school – ELSA (Emotional Literacy Support Assistant). An ELSA is a teaching assistant who has had specialist training and is regularly supervised by an Educational Psychologist to support the emotional needs of children within the school. The intervention recognises that children learn better and are happier in school if their emotional needs are also met. ELSAs help children to understand their emotions and how they may manage them by providing time and space to develop their emotional literacy. The intervention will usually last for 6 weeks and will help children to recognise, understand and express emotions appropriately.
An ELSA can help with
Social skills
Anger management
Understanding Emotions
Relationships
Sadness
Anxiety
Loss and Bereavement
Each intervention will have specific targets for the child/group and the children will have specific strategies to support their emotional needs. The sessions are designed to support children understanding, thinking and reflecting through activities such as talking and listening, games, therapeutic and social stories, craft and friendship groups.
Whilst it is unrealistic to expect the intervention to solve all of the difficulties, the objective of ELSA is support children in finding ways to cope with their challenges.
If you have any questions or feel that your child might benefit from ELSA sessions, please contact Mrs Wyse or Miss Graves.
Further Information Regarding Well-being: