Relationship Health Education
Relationship and Health Education (also known as Relationship and Sex Education) was previously taught under the Personal, Social and Health Education (PSHE) heading.
attitudes and values
personal and social skills
knowledge and understanding
At St. Edmunds Catholic Primary School we teach Relationships and Health education aligned to our Christian beliefs about God and the human person.
The belief in the unique dignity of the human person made in the image and likeness of God underpins the approach to all education in a Catholic school. Our approach to RHE is therefore rooted in the Catholic's Church's teaching of the human person and presented in a positive framework of Christina ideals.
As a consequence of the Christian belief that we are made in the image and likeness of God, gender and sexuality are seen as God's gift, reflects God's beauty.
All RHE will be in accordance with the Church's moral teaching. It will emphasize the central importance of marriage and the family while acknowledging that all pupils have a fundamental right to have their life respected whatever house hold they come from. It will also prepare pupils for life in modern Britain.
In the classroom
Children have a dedicated RHE lesson every week, which follows the programme "Life to the Full" by Ten Ten, an award-winning Catholic education organisation.
This programme provides planning and resources from EYFS through to Year 6 in phase groups: EYFS, KS1, LKS2 and UKS2. The children will have one exercise book which will accompany them throughout their school life. In this book, the children will have evidence of their learning/growth throughout primary school and be able to celebrate their achievements.
Wider Curriculum
As part of a broad and balanced curriculum that prepares children for the wider world and transition to Secondary school we also cover topics such as money and finance, citizenship and first aid.
Where possible we provide assemblies, workshops, school trips, guest speakers and visitors to the school and special events, such as Cultural Diversity Week, Healthy Eating week, Money week, Anti bullying activities which contribute to our work on British Values.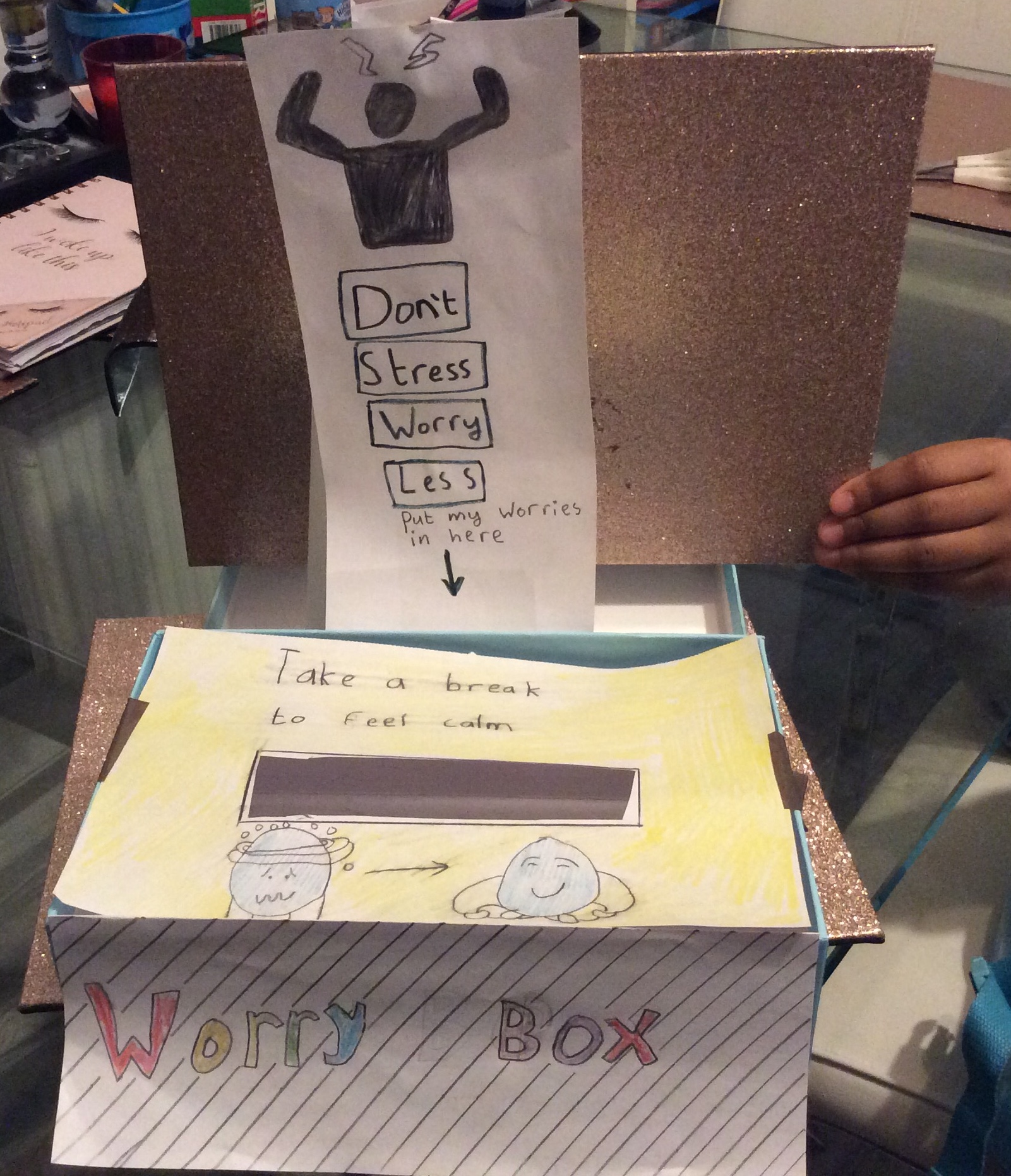 Below are documents which were used to support the creation of our school's RHE policy. They come from the Department of Education, the Borough of Enfield and the Catholic Education Service.
Road Safety
Doctor Bike
https://www.cycleenfield.co.uk/get-involved/drbike/
Dr. Bike Cycle Checks
At Dr Bike sessions experienced mechanics check everything on your bike from wheels, brakes, gears and tyre pressure to lights, racks, pedals, saddles and more.
Any minor adjustments they can make to the bike will be done there and then. If there's anything they can't fix on site, they will let you know exactly what needs doing and a rough guide to what it should cost at a bike shop.
All our mechanics are friendly and approachable and have a wealth of cycling knowledge so feel free to pick their brains about cycle training or other cycling activities.
Once your bike has been checked you could book one of the Family Cycle skills sessions that are available: https://www.cycleconfident.com/courses/family/
Whether you and your family are novices to cycling or you all ride already but would like advice on specific routes, your instructor will tailor the session to meet your needs.
Sessions are for up to 3 people and at least one trainee must be an adult. Please be aware that where groups have very different ages or abilities, instructors need to pace training to suit the least able. If you live, work or study in any Enfield, this training is free!"
Anti Bullying 2021
Healthy Eating Week
The children in Reception talked about what healthy foods they loved to eat. They decided that fruit was their favourite and to make fruit kebabs. They loved making them and most of all, they loved eating them!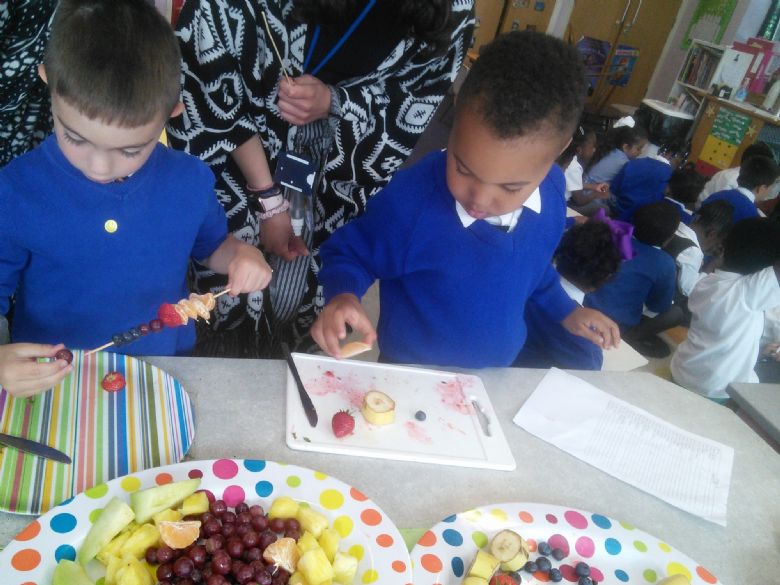 Year 1 made fruit kebabs, the children did taste testing and we discussed the different textures, tastes and smells etc. We then made the kebabs. We also made food rainbows in Art and talked about smart sugar swaps in PSHE.
The children in Year 2 learnt about what foods were healthy and unhealthy. They learnt about the portion sizes they should have on their plates and how important it was to have a lot of fruit and vegetables in their diet.​ The children then made their own fruit salad, learning how to prepare the fruit, cut the fruit and serve it. The children loved Healthy Eating Week and loved trying new fruits!
In Year 3 we looked at the food pyramid and the Eat Well Plate. We discussed what a balanced diet is and what a balanced meal looks like. We spoke about the types of each food we need to eat and the amounts we should eat. We created a salad with a variety of ingredients. We prepared the ingredients buffet style and children were given some time to plan the ingredients they would take to make sure it was balanced. They were given vegetable/salad options/ fats / starchy carbs/ protein. The children then created their meals and ate them. They made thoughtful choices and explained their ideas well.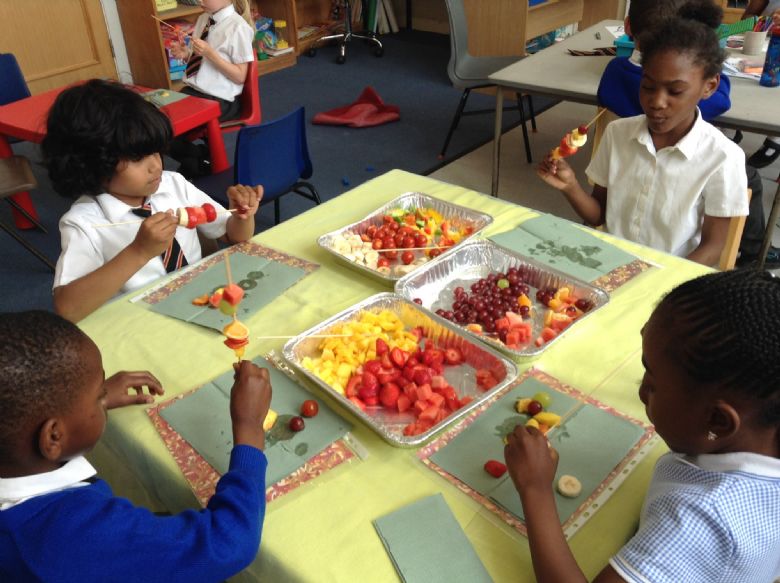 Children in Year 4 have been having lots of fun! Over the past 2 weeks, we have learnt about the nutritional benefit of fruits and vegetables; looking at the Eatwell plate; what makes a balanced diet; and how we should all be eating a rainbow! In groups, they designed a fruit kebab, gave their product a name and created a slogan and an advert. They also spent time in Maths preparing a budget and discovered the cost of their kebab. Finally, we made the kebabs and did some taste testing!
Year 5 learnt about how much sugar, salt and saturated fat, was in certain foods. We found out that having too much of these things is damaging to our bodies. We focused on making healthier choices and finding alternative snacks with less sugar, salt and saturated fat. On Friday afternoon we made kebabs, using a variety of different fruits. Some of us tried new fruits for the first time! We all really enjoyed our healthy snack.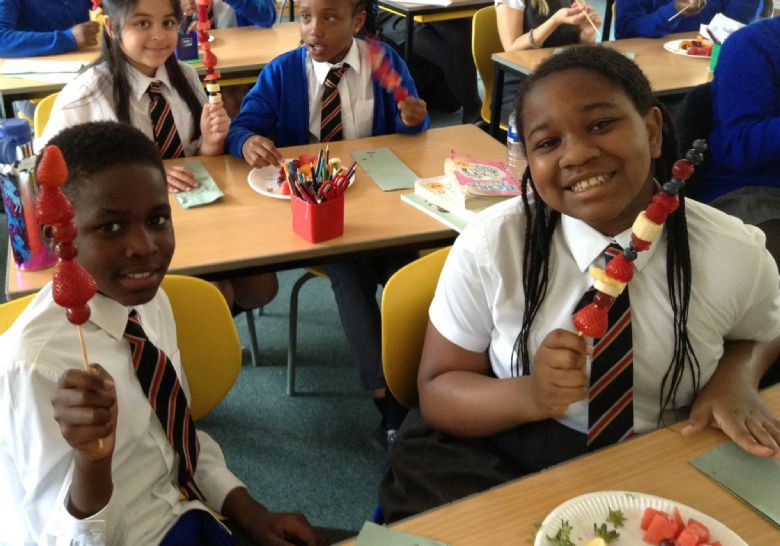 Year 6 made fruit smoothies. We researched the nutritional benefits of different ingredients and each group planned and made a smoothie based on that. We designed the packaging too.​ The children loved it!
Cultural Walking and Cycling Map in Enfield
Cultural Walking and Cycling Map of Enfield PDF download
This map is a great guide to Enfield which shows information on libraries, historical landmarks, shopping centres, etc but also 'ghost' signs and examples of art around the borough. It can be used as a walking or cycling guide.
Perhaps, you could use it to find some new places to visit during the summer holidays. Enjoy!
Cycle Training